Investor Podcast
Interview with Asha Mehta, Managing Partner & CIO at Global Delta Capital.
Published 11 October 2022
Asha Mehta joins us to talk about Global Delta Capital's quantitative approach to emerging markets and to share her experiences of being the first quantitative manager to become a signatory of the PRI. She also talks about how investors can leverage big data to drive change/impact; and how to identify the relevant data to develop dashboards which can provide investors with a clear understanding of the average weighted carbon intensity of assets across their portfolio; helping them to map out their trajectory to net-zero.
Asha Mehta, CFA, is Managing Partner & CIO at Global Delta Capital. Her thematic focus includes Emerging & Frontier Markets and Sustainability Investing. In prior roles, Asha was Lead Portfolio Manager and Director of Responsible Investing at Acadian Asset Management as well as an investment banker at Goldman Sachs. Early in her career, she conducted microfinance lending in India.
Asha was named one of the Top 10 Women in Asset Management by Money Management Executive and was profiled as a "Brilliant Quant" by Forbes magazine. She is a frequent speaker at industry conferences and her work has been featured in Pensions & Investments, the FT, CNN, WSJ, and other publications.
Asha is a Board Member of CFA Society Boston and an Advisor to the High Meadows Institute. In addition, she is an active advocate of financial literacy and financial empowerment. She is a supporter of several related organizations, including Compass Working Capital and 100 Women in Finance.
Asha holds an MBA with Honors from The Wharton School (University of Pennsylvania) and a BS, Biological Sciences and AB, Anthropology, from Stanford University. Asha has traveled to over 80 countries and lived in six.
Global Delta Capital introduces a novel quantitative approach, systematic yet fueled by market-driven insights. They invest at the junction of the emerging markets and FinTech, infusing their portfolios with forward-looking market thematics.
As technology and regulation disrupts the industry, they add value to both their investors and society, delivering high alpha and high impact through strategic investing. Global Delta Capital's approach offers the potential to revolutionize the pace of development by harnessing the power of the equity capital markets.
For further information: https://www.globaldeltacapital.com/
Tune into our channel and listen where it works best for you
This podcast, and more like it, is available on Spotify, iTunes, Google Podcasts, Breaker, Overcast, Pocket Casts & RadioPublic – subscribe and listen on your channel of choice.
You might also be interested in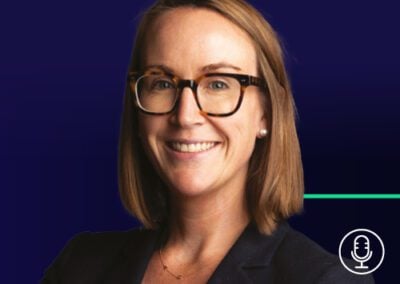 Whitney Hughes-Plummer, Managing Director and Partner, Boston Consulting Group joins us to share key findings from the report Untapped Reserves 3.0, which assesses diversity, equity, and inclusion (DE&I) in the energy sector. Listen here. Listen Here