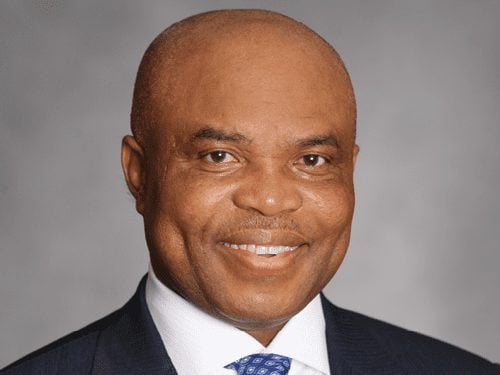 Dr. Bryant (ABC) Orjiako
Co-Founder & Chairman, Seplat Petroleum Development Company PLC
ABC Orjiako is the Chairman and co-founder of SEPLAT, a leading Nigerian independent oil and gas company listed on the London and Nigerian stock exchanges with a strategic focus in the Niger Delta of Nigeria.
After obtaining an M.B.B.Ch. degree in 1985 from the College of Medical Sciences, University of Calabar, Nigeria, he trained as a General Surgeon at the Lagos University Teaching Hospital, Lagos.
He later sub-specialised in orthopaedic and trauma surgery and became a fellow of the West African College of Surgeons in 1996. In 2006, he completed the OPM program of the Harvard Business School.
He established and managed various companies in the upstream, downstream and service sectors of the oil and gas industry in Nigeria. These include Abbeycourt Trading Company Limited, Abbeycourt Energy Services Limited, Zebbra Energy Limited and Shebah Exploration and Production Company Limited. He also has other business interests in construction, real estate development, pharmaceuticals and shipping. He went into full-time business in 1996 after eleven years of active medical practice.
In 2009, his company Shebah Exploration and Production Company and Platform Petroleum Limited co-founded SEPLAT. Since inception, he has remained the Chairman spearheading new business development and providing leadership on strategy and stakeholder relationships. Under his leadership, the company has become a highly reputable Nigerian Independent recording several milestones comprising successfully closing landmark acquisitions, growing the company's oil and gas production exponentially and becoming a well-run company with strong and transparent governance.
He has steered the company, in the space of five years, to steadily emerge a global brand while attaining its remarkable growth aspirations. Under his watch, the company pioneered dual listing of its shares on the Nigerian and London stock exchanges in 2014. In recognition of the company's achievements, SEPLAT recently won the Best Africa listing 2014 award by Africa Investors (Ai), "Mid-Cap Company of The Year 2014" award by the Oil and Gas Council and was named a "Global Growth Company 2014" by the World Economic Forum in 2014.
Dr. ABC Orjiako is on the board of companies in various sectors; he is the chairman of Neimeth Pharmaceutical International plc, which is listed on the NSE; a director of MPI, which is listed on NYSE Euronext Paris and a director of Leadway Assurance Company Limited. By invitation of the London Stock Exchange, he became a founding member of the London Stock Exchange Group's Africa Advisory Group ("LAAG"), a select group working towards generating and channeling ideas and problem solve towards the issues affecting the African continent from a commercial and social perspective.  
Consolidating his firm commitment to philanthropy, he founded the Daniel Orjiako Memorial Foundation (''DOMF'') in 1996 in honour of his late father, Chief Daniel O. Orjiako. Since inception, the DOMF has executed numerous programmes in rural Nigerian communities in education, healthcare services and economic empowerment through agriculture aimed at providing welfare and breaking the poverty cycle.
In recognition of his services to humanity, Pope John Paul II in 2003 bestowed on him a Knighthood of the Order of St. Gregory the Great (KSGG).
He has received numerous awards and recognitions for his service to humanity and his entrepreneurial achievements. Some of these notable awards include the Distinguished Alumnus Award and Doctor of Sciences (D.Sc. Honoris Causa) by the University of Calabar, Nigeria in 2001; Platinum Award of the West African College of Surgeons in 2006;  National Honours as an Officer of the Federal Republic ("OFR"), conferred on him by the President of Nigeria in 2012; the coveted Zik (Nnamdi Azikiwe) Prize in the Professional Leadership category by the Public Policy Research and Analysis Centre (PPRAC) and African Business Executive of the Year 2014, by the Oil and Gas Council.
Dr. ABC Orjiako was born and raised in Nigeria. He is happily married with four children.
Find out more about our network
Dr. Bryant (ABC) Orjiako is one of our expert speakers and has joined panels at the Africa Assembly, Nigeria Assembly and World Energy Capital Assembly. Find out more about the Oil & Gas Council events that Dr. Bryant (ABC) Orjiako has been part of and how you can get involved.