Accenture Roundtable
Setting out a practical path towards decarbonisation for oil & gas; how to transform a fossil fuel-based energy system to one that is sustainable and decarbonized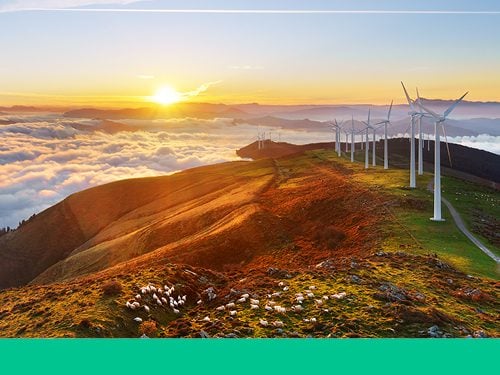 Decarbonizing the world's fossil fuel-based energy system is one of humanity's most urgent challenges. It also represents one of the greatest opportunities to make global energy supplies more available, reliable and affordable than ever before. Oil and gas companies can lead the transition. But only if they take the right actions today and set the right ambitions for tomorrow.
Reshaping your portfolios, Rethinking your operating models, Ramping up your innovation engines and Reimagining your industry collaborations
What actions can oil and gas companies take today; from minimizing emissions from current operations and replacing existing sources of energy and demand with cleaner alternatives to adopting and scaling new energy sources, processes and technologies – what is the most realistic business plan for your organisation?
How can collaboration across the energy system be enhanced (energy suppliers and energy services), be addressed, encouraged and improved in order to make the transition to a low- or no-emission future a reality?
With oil back up to over $50 a barrel, is the transition momentum building or evolving?
With 80% of emissions occurring beyond the reach of oil & gas companies, what role can the upstream play in limiting emissions?
How do the roles of the majors, mids, small caps and service providers differ and how do they complement one another in achieving change?
How can developing economies make their assets work in a decarbonising world? How can you balance the energy needs of your country with the energy transition? Do we see a twin-speed transition, depending on the East/West?
What's the end stage for the oil and gas industry?
Where do see the near-term value regarding the transition? Are you prioritizing it to reduce your capital, to make cleaner carbon products, etc? How do these differ by region?
How can oil and gas companies ensure pockets of value and return for their investors?
The roundtable will be taking place virtually on Thursday, 11th February 2021 at 7 AM (CST). We will be able to welcome no more than 15 participants in the roundtable. Should you be interested in taking part, please contact [email protected]
David Rabley
Managing Director, Accenture
David is a Managing Director based in Houston and leads the Accenture Energy Transition practice for oil and gas globally and in North America. With over two decades of experience in the energy industry, David collaborates with majors, national oil companies, US-based independents and oilfield services companies to develop and execute strategies and programs to understand and lead the energy transition, transform and protect value for their stakeholders, society and for the environment. David works closely with international organizations including the World Economic Forum and the World Energy Council with a focus on future energy scenarios and priorities for the successful development of the energy system.
Muqsit Ashraf
Senior MD and Global Industry Lead for Energy, Accenture
Muqsit advises Energy executives and senior stakeholders on strategy, transformation, and technology/innovation. Muqsit also serves on Accenture's Global Leadership Council. Muqsit has nearly 20 years of experience working in the energy industry across the value chain—upstream, oilfield services, downstream and petrochemicals. He specializes in corporate strategy, operating model design and large scale business (and digital) transformation programs. Muqsit sponsors Accenture's partnership with the World Energy Council, manages the relationship with the World Economic Forum's Energy team, and is part of Accenture's Global Energy Board. He features regularly on major industry conferences and forums, and publishes internally and externally. 
Hosted by Accenture
Accenture Strategy operates at the intersection of business and technology, combining deep industry expertise, advanced analytics capabilities and human-led design methodologies that enable clients to act with speed and confidence. By identifying clear, actionable paths to accelerate competitive agility, Accenture Strategy helps leaders in the C-suite envision and execute strategies that drive growth in the face of digital transformation. For more information, visit www.accenture.com/strategy.
You might also be interested in