Digital Dialogue
Exploring Gas Opportunities in Nigeria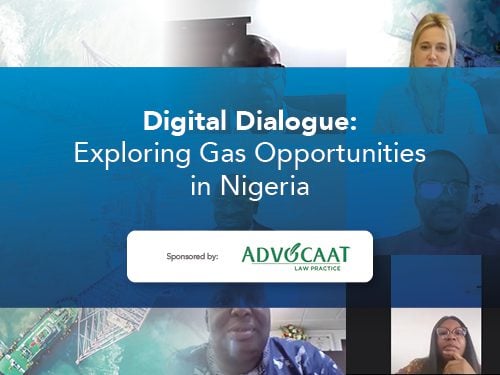 10 November 2020
The Digital Energy Festival for Africa where four leading energy brands join forces to provide African energy content, cultivate new connections and attendee engagement started on the 20th October and will run for six weeks until the 26th of November.
The penultimate Oil & Gas Council session took place on November 10 hosting an exceptional panel of industry-leading speakers who have years of experience in industries ranging from oil & gas, legal and financial services. The speakers gathered to discuss and provide insights on the available opportunities in the gas sector in Nigeria.
If you missed the digital dialogue, watch the discussion on demand and hear advisors, experts, international & domestic financiers discuss the challenges and provide their views, advice and solutions.
Exploring Gas Opportunities in Nigeria
Discussion Highlights:
The Effect of the Covid-19 pandemic on the economic structure of Nigeria.
Development of Nigeria's vast gas reserves.
Measures the federal government has taken over the past decade in developing the gas sector in Nigeria.
Foreign investor's current perspective and future outlook on the Nigerian gas market.
Domestic investor's strategy on the development of gas in Nigeria.
The price of gas and the cost to produce it in Nigeria's current climate
Speakers:
Ola Alokolaro – Managing Partner, Advocaat Law Practice (Moderator)
Dr. Musa Mohammed Zagi – Head, Gas Monitoring & Regulation, Department of Petroleum Resources
Bambo Ibidapo-Obe – Commercial Director, Oando Plc
Chichi Emenike – Head Gas Ventures, Neconde Energy Limited
Oge Peters – Head Of Commercial, Savannah Energy PLC
Find out more about the Digital Energy Festival & Register to Attend
Enquiries
Membership Team Officer: Mogau Mathiba
T: +27 21 001 3888
E: [email protected] 
You might also be interested in