Partner Report
ERCE Global Upstream M&A Tracker:
Q2 2021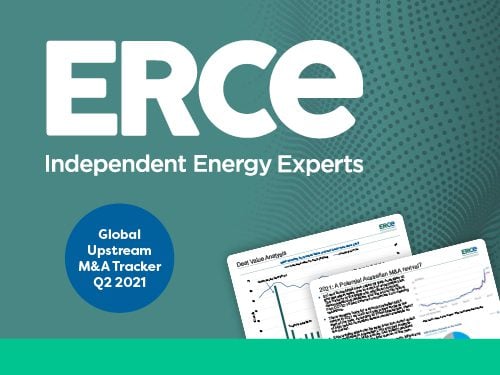 ERCE's Global Upstream M&A Tracker is a quarterly product that provides an easy and detailed summary and analysis of global upstream M&A deals, both asset- and corporate-level. This edition covers upstream M&A activity over Q2 2021.
ERCE has recorded 67 deals with a total reported deal value of US$24.165bn since the Q1-21 edition of the M&A tracker was released.
Seven deals crossed the US$1bn mark: the Cabot/Cimarex merger, EQT's acquisition of Alta Resources, Southwestern's acquisition of Indigo, the Independence/Contango merger, the Civitas/Crestone merger and Mubadala's acquisition of Delek's stake in the Tamar gas field.
North America was again the most active region in terms of the number of deals and the total transaction value, as the consolidation in America's shale patch continues to intensify. The reported deal value was approximately US$21.1bn, with six deals exceeding the US$1bn mark.
There was a pickup in M&A activity in APAC and Latin America, with a recorded deal value of US$777.9MM and US$879.5MM respectively. Download ERCE's Global Upstream M&A Tracker to find out more.
Read in the full report:
A comprehensive summary of Upstream M&A deals over the first quarter of 2021
Upstream M&A Deal Value Analysis over the last two and a half years
Going forward: M&A trends
Global Upstream M&A Metrics
Subscribe to get the latest from ERCE's Global Upstream M&A Tracker here
 About ERCE Asia Pacific
The principals of ERCE have been providing consultancy services to the upstream oil and gas industry for 45 years, since the 1970s. Our experience extends across conventional and unconventional oil and gas provinces worldwide; particularly in Asia Pacific, Australasia, Europe, the Asian Sub-Continent, Africa, the Middle East, Russia and South America. ERCE are the leading independent, privately owned, consultancy company whose personnel comprise of full time geoscientists, petrophysicists, reservoir, cost and facilities engineers and economists across our offices in London, Singapore and Australia. We also retain a network of highly experienced associate consultants who supplement our project teams as required with specialist skills.
Our experience and expertise range from; Merger and Acquisition Evaluation, Field Simulation, Development and Management; Reserves & Resource Auditing; Equity, Valuation and Determination; Exploration Prospectivity & Portfolio Analysis; Risk and Uncertainty modelling; Expert Witness, Unitisation and Redetermination. Our technical team are skilled in database management, detailed core sedimentology interpretation, geomodelling, seismic processing workflows & QC, interpretation and quantitative geophysics, seismic property & AVO modelling, dynamic simulation modelling, history matching and forecasting, well intervention planning, reservoir optimisation and management, all the way through to exploration, appraisal, development planning.
Find out more:  www.erce.energy
ERCE Asia Pacific Economics Team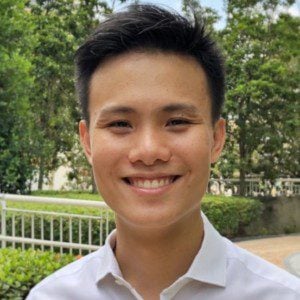 Nicholas Lee
Graduate Economist at ERCE
Nicholas joined ERCE's Asia Pacific team in 2020 and has since worked on various upstream oil and gas asset valuations for companies in the Asia Pacific, Australia, Africa, Middle East, and the North Sea. His skillset includes financial modelling and valuation, and in-depth knowledge of the upstream industry.
Nicholas holds an MSc degree in Quantitative Finance from the Singapore Management University and a BEng degree in Mechanical Engineering from the National University of Singapore.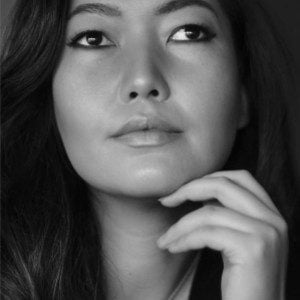 Zhamal Orazbayeva
Head of Economics and Principal Economist at ERCE
Zhamal has over 10 years in Oil & Gas Valuation and Economics. Prior to joining ERCE, she worked as an Oil and Gas Equity Analyst in GMP Securities and Westhouse Securities in the City of London. Her coverage included a number of oil and gas companies with assets and listings internationally, and she visited oil and gas assets in Africa, Kazakhstan, Argentina and offshore Norway.
Zhamal's key skills include corporate and asset valuation, petroleum economics and fiscal regimes, construction of complex oil and gas valuation models in Excel, financial and strategic analysis. She has worked with clients ranging from private and listed upstream companies, IOCs and NOCs to governments.
You might also be interested in