Special Report
The Role of CCS in the Asian Energy Transition
7th July 2022
By Emma Shewell, Portfolio Manager, APAC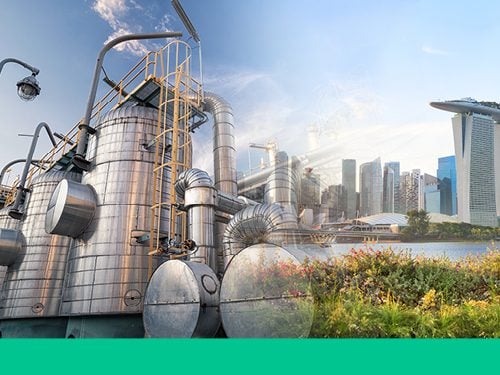 At this year's APAC Energy Capital Assembly, one of our goals was to discuss new energy technologies and products with specific relevance for conventional oil and gas producers in the region. One such technology, which dominated many of our pre-event conversations, was that of Carbon Capture and Storage (CCS).
With fossil fuel dependence expected to increase significantly in the region over the coming decades, CCS has been recognised as an important element of the Asian energy transition roadmap. Power production capacity supported by coal is expected to increase from 103 GW in 2020 to 207 GW in 2040, while gas capacity is expected to go from 90GW to 154GW over this same period. [1] For the upstream industry in Asia, this technology could therefore play a significant role both in decarbonisation of gas processing and in the power sector.
Given its expected importance in the APAC energy technology mix up to 2050, CCS was included as a focal discussion during the 2022 APAC Assembly agenda. The audience received an insightful presentation on the role of the energy industry in decarbonising Asia Pacific from Syrie Crouch, Global VP of CCS for Shell.
This presentation laid the foundation for a comprehensive panel discussion of current actions being taken by IOCs, NOCs and regulators to develop this technology in the region. We welcomed an esteemed panel of representatives including Azahari M. Shuid, Senior General Manager of Strategy and Commercial, Upstream Business at PETRONAS, Oki Muraza, Senior Vice President, Research & Technology Innovation at PERTAMINA, Yu Li P'ing, General Manager, CCS Asia at Shell and Tracy Lothian, Vice President Marketing, Finance & Commercial Development, Low Carbon Solutions at ExxonMobil, moderated by Brad Roach, Co-Chair Oil and Gas Practice Group at Gibson Dunn.
Although CCS and CCUS facilities have been operational for many years in other parts of the world, this technology is still very much burgeoning in its implementation in the APAC region. The panellists agreed broadly that scalability will be key to the successful deployment of CCS technology, with a few key enablers recognised as essential: collaboration, policy consolidation, acceleration of technology employment and the development of regional hubs.

The first point
, collaboration, was a recurring theme at this year's Assembly, with all panels agreeing the transition project will rely on cooperation between stakeholders as never before seen in the oil and gas industry.
A clear and most recent example of this including our panellists' organisations, is the MOU announced on 27 June 2022, signed between Shell, ExxonMobil, CNOOC and the Guangdong Provincial Development & Reform Commission. This agreement will leverage the international experience of all parties involved to explore an offshore industrial CCUS hub with CO2 capture capacity of up to 10 million mtpa, establishing China's first offshore CCUS project with over 3 million mtpa capacity. [2]
Other similar agreements have cropped up between state-owned organisations and private energy companies throughout APAC, showing the commitment of state-owned enterprises to deliver on established decarbonisation targets. For all parties, the ambition is for CCS to be used both in decarbonising their own operations, as well as to provide a decarbonisation service to the region more broadly, particularly for hard-to-abate sectors such as steel and cement production.
The second point, that of policy consolidation, is another recurring theme in discussions around the future of energy provision in the APAC region. Particularly when it comes to new technologies such as CCS, a lack of established regulatory frameworks makes it difficult for investors and partners to predict the risk profile of potential projects.
Engagement with regulators was argued to be centrally important across the project life cycle, from: deciding on the best and safest injection technologies; to confirming project development plans; to monitoring operations once they have begun; and to re-visiting the original plan once operational to ensure projects are actively assessed and improved upon.
Due to the relatively high cost of CCS, in comparison with decreasing costs of renewable energy technologies, it will be difficult to build a business case for carbon capture projects without carbon pricing incentives and strict emissions regulation. [3]
In January 2022, the average cost of carbon removal was placed at USD 63.5 per tonne, compared to a per tonne carbon price in China's new carbon trading schemes of 48 yuan or USD 7.54. In Southeast Asia, Singapore has introduced a new carbon tax system – however, this also attributes a relatively low cost of SGD 5, or USD 3.65 per tonne. [4]  It will therefore be crucial to incentivise companies who will otherwise be suffering losses by employing the technology.
The panel offered a range of alternatives for governments to also consider when developing their regulatory frameworks. Outside of government-led pricing mechanisms, other tools also identified as crucial elements of government support of CCS are grants, subsidies, tax credits, and public procurement of shared facilities.
A third point identified as essential is that of technology employment and development. This extends across the value chain of capture, transportation, utilisation, storage and monitoring.
For example, advancements in capture technology were cited as important, as the concentration of CO2 from the source is not always high enough to be transported and injected. Another example would be in CO2 transportation, where shipping has been identified as a potentially efficient method of transportation that could be developed based on extensive regional experience with LNG – despite pipelines proving viable in other parts of the world.
Linking the first three key enablers together, it has also been suggested that governments may support the deployment of CCS technology through collaboration on international technology standards. [5] This would provide guidance on technological best-practice in the region and assist project planners in assessing potential risks based on set standards.
The final major point raised by the panel was the importance of establishing regional industrial CCS hubs, in which multiple sources of captured CO2 could be brought together and sent on to a single storage location. It was argued that single point-to-point CCS projects will not provide the scale needed to make this technology viable, and so comes back to the first point regarding collaboration. In particular, there is a need for cross-border collaboration between governments and regulators in deciding on carbon pricing and credit-sharing mechanisms between the carbon exporting country/business and the carbon-storing country/business.
Ultimately, despite the obstacles and work to be done before CCS can be considered an effective vehicle for decarbonisation in Asia Pacific, our panellists all agreed it will play a vital role in a just and sustainable transition for the region. As is widely agreed in the industry, the consensus amongst our speakers was that CCS must work alongside other new energy products and technologies to create a varied energy mix. Whether it be in producing more low-carbon hydrogen to meet growing demand, helping to generate negative emissions through direct air capture, or in producing bio-energy, CCS if harnessed efficiently could be a widely used tool even outside of pure decarbonisation strategies.
Even the IEA, in its sustainable development scenario that places the world at net-zero emissions by 2070, sees CCUS in Southeast Asia reaching at least 35 mtpa of CO2 captured by 2030. [6] Such a capacity is on-par with the current amount of CO2 captured globally every year, and shows just how much work there is to be done before the technology truly proves it's potential in Asia's transition story. However, if our discussions at the APAC Assembly were anything to go by, the development of the Asian CCS market is well on its way to fruition and being led by passionate individuals with the intention of facilitating a just and sustainable transition in the region.
[1] Lee, C. 2022.
Carbon Capture and Storage: A View from Asia
[online]. Available:
https://hk.boell.org/en/2022/01/13/carbon-capture-and-storage-view-asia
[accessed June 2022].
[2] Zhou, O. & Croteau, J. 2022.
ExxonMobil, Shell, CNOOC to pursue offshore carbon capture hub in China
[online]. Available:
https://www.spglobal.com/commodityinsights/en/market-insights/latest-news/energy-transition/062822-exxonmobil-shell-cnooc-to-pursue-offshore-carbon-capture-hub-in-china
[accessed June 2022].
[3] Adhiguna, P. 2022.
Widespread adoption of carbon capture, utilization and storage technologies in South East Asia remains highly unlikely
[online]. Available:
https://ieefa.org/articles/widespread-adoption-carbon-capture-utilization-and-storage-technologies-south-east-asia
[accessed June 2022].
[4] Lee, C. 2022.
Carbon Capture and Storage: A View from Asia
[online]. Available:
https://hk.boell.org/en/2022/01/13/carbon-capture-and-storage-view-asia
[accessed June 2022].
[5] Ha, T. 2021.
Southeast Asia pins hopes on carbon capture to cut emissions
[online]. Available:
https://www.eco-business.com/news/southeast-asia-pins-hopes-on-carbon-capture-to-cut-emissions/
 [accessed June 2022].
[6] Ha, T. 2021.
Southeast Asia pins hopes on carbon capture to cut emissions
[online]. Available:
https://www.eco-business.com/news/southeast-asia-pins-hopes-on-carbon-capture-to-cut-emissions/
 [accessed June 2022].
You might also be interested in
After a year of uncertainty, the oil and gas industry needs to act quickly to capitalise on an innovation boom. Axora spoke to 150 senior decision-makers to see how technology will carry their companies – and the industry at large – into the future READ MORE