Women's Energy Council Podcast
Gina Fyffe, Chief Executive Officer, Integra Petrochemicals
26 May 2021
In this month's episode of the Women's Energy Council Podcast, Amy Miller speaks with Gina Fyffe, Chief Executive Officer of Integra Petrochemicals. Gina discusses her experiences as the first woman hired to the ExxonMobil Petrochemicals Marketing team, the opportunities that often present themselves when you don't have an end-game in mind, and the importance of recruiting good colleagues. Enjoy the episode!
Gina Fyffe is Scottish and graduated from the University of Edinburgh in Biomedical Sciences. Her career started with Exxon Chemical in the UK followed by several years in its international HQ in Belgium. In 1989, she founded what is now the global petrochemical trading company Integra Petrochemicals.
Gina sits on various boards and councils including the Brussels based European Petrochemical Association (EPCA) Council for talent, diversity, inclusion and training; the Gulf Petrochemical Association (GPCA), International trade committee in Dubai; the trade committee of the Singapore Chemical Industry Council (SCIC) and is a founding Board Member of BTS Tankers.
She chairs the Board of Granite Holdings and Integra Petrochemicals.
Gina was also a founding member of the Woman in Shipping and Trading Association (WISTA), which has grown over the years into a global organisation offering training, networking and support for women in the industry.
Integra Petrochemicals is one of the world's leading petrochemical trading and shipping companies, with its headquarters in Singapore, and offices in Beijing, Seoul, Brussels, Zug, Houston and Riyadh. The company handles a wide range of petrochemicals gases and liquids, from bulk liquids and gases to first and second line intermediates and bio fuels.
Tune into our channel and listen where it works best for you
This podcast, and more like it, is available on Spotify, iTunes, Google Podcasts, Breaker, Overcast, Pocket Casts & RadioPublic – subscribe and listen on your channel of choice.
You might also be interested in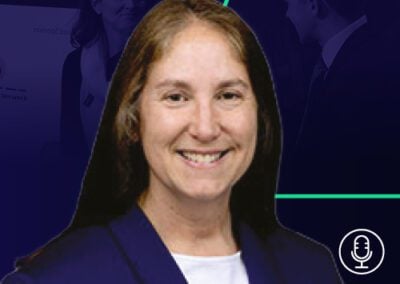 In this episode of the WEC Podcast, Gayle talks to us about how not to feel overwhelmed or behind the curve when it comes to transformation and how to balance the cost of making significant changes to existing operations in the short term for long term gains. We also discuss what keeps Gayle excited about her role every day and the importance of Grant Thornton's business resource groups in maintaining diversity and inclusion goals Listen Here